On the off chance any Trek art buyers come by here...I've put my 6 original Sonia R. Hillios Star Trek paintings on sale for the month of August, at 20% off list price, except for Locutus which is 15% off. Most are already below appraised value from years ago, so now is the time to save another $600-$1600 and get that undervalued piece of Trek art you've been drooling over.
http://collectibleshop.tripod.com/star-trek-paintings.html is the page.
Payments can be made too, ask.
List:
Deanna Troi
Enterprise NCC 1701-D
Kirk's Lost Love (full image at bottom of post)
Klingon Bird of Prey
Locutus
Strange New Worlds V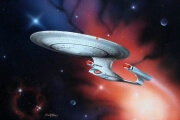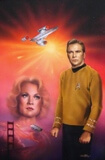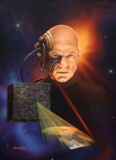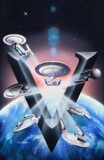 All are framed except for Strange New Worlds.
Exact shipping charged, no handling fees. Experienced seller, satisfaction guaranteed on condition or money back, less shipping fees. Shipping in U.S. and maybe Canada.
PLEASE read my How To Order page before contacting me about buying. http://collectibleshop.tripod.com/orderinfo.html . I can take credit card payments via Square's Invoice service (nothing to join or sign up for, no cost to you), similar to PP's. Also money orders, personal checks, cashiers checks, well concealed cash. MoneyGram and Western Union transfers work too if you're in a hurry, and they take credit cards, but have fees. I've been doing mail order for over 29 years now, providing quality items and good service. You get confirmation every step of the way. My Feedbacks page has plenty of positive customer testimonials: http://collectibleshop.tripod.com/feedbacks.html
Email is checked frequently and you will get a fast reply (I'm online most afternoons, and evenings on and off), so please check your email later that day or evening for a reply, and reply back as soon as you can, thanks! (You'll have to use the email link on my site. No email posted here due to spammers.)
-Collectibles Shop - http://collectibleshop.tripod.com